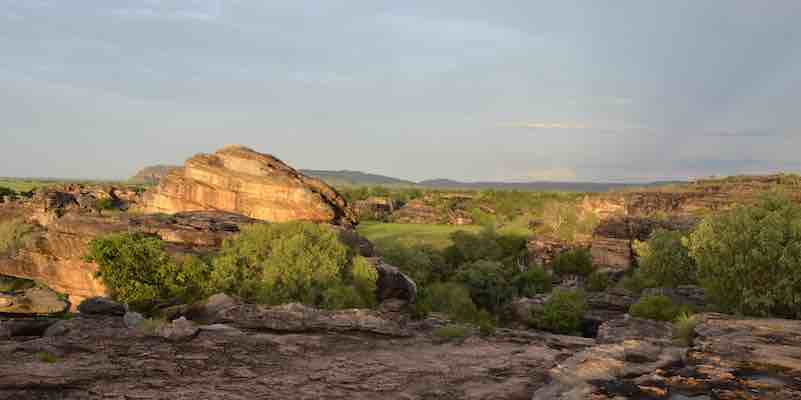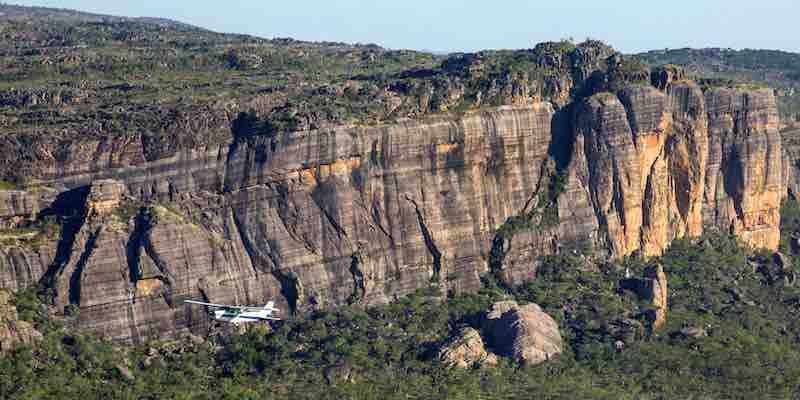 Our popular 30 minute Kakadu Scenic Flight will fly over Ancient escarpments, winding rivers, spectacular 1.8 billion years of continuous erosion, billabongs and flood plains. View the Archway, Arnhem Land Escarpment's, Dinosaur Valley, East Alligator River & Valley, Mikinj Valley Billabongs and the magnificent Magela Wetlands.
Note: The 30 minute Kakadu Scenic Flight operates over the Northern part of Kakadu bordering Arnhem Land.
This flight departs from Jabiru Airport which is only a short drive (approx. 10 mins) from the town of Jabiru.
If you feel the 30 minutes is not long enough you may want to consider the 1 hour Kakadu Scenic Flight.
Cost: From $130 pp
60 Minute Scenic Flight (Dry Season)
This 60 minute Kakadu Scenic Flight will take you over Jim Jim and Twin Falls in the wet season when that area is inaccessible by road.
The flight over Kakadu National Park heads south, passing the Ranger Uranium Mine, across Mt Brockman and along the escarpment to "Lightning Dreaming". After crossing Deaf Adder Gorge, we take in the beautiful Double Falls, a spectacular introduction to the waterfalls of Kakadu National Park.
Continuing south, we fly across the Arnhem Plateau until it drops away revealing the breathtaking Jim Jim Falls. We then fly on to Twin Falls, with its two distinctive flows and narrow gorge entrance.
This package allows you to experience all Kakadu's main attractions from the air at a competitive price.
Cost: From $240 pp
Please note: This flight does not include Jim Jim falls and Twin falls during the dry season.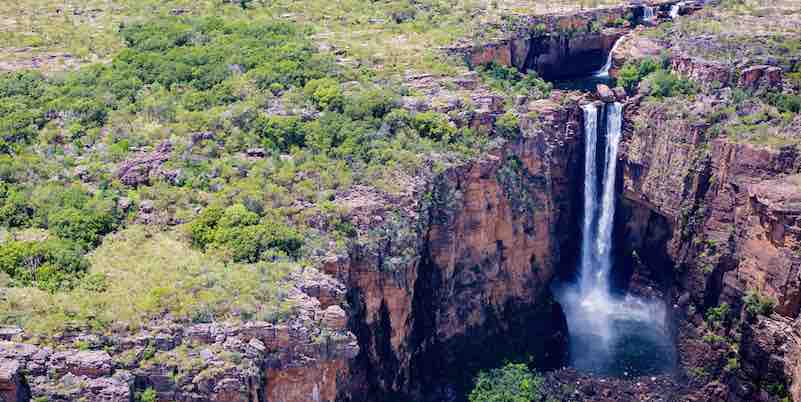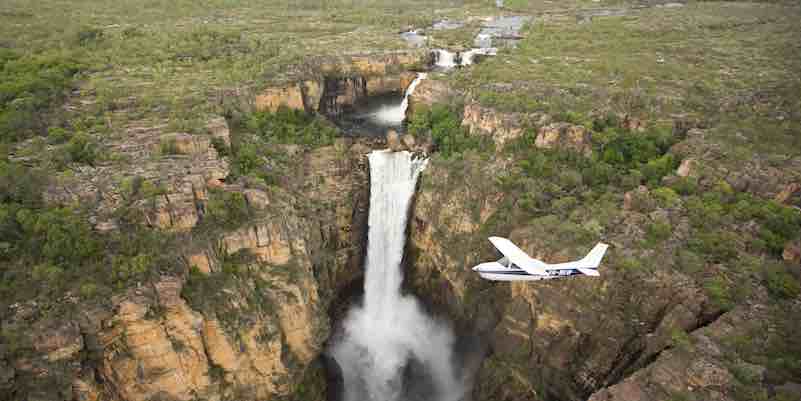 This is the biggest and best scenic flight available in and around Kakadu. Our Super Scenic is EXCLUSIVE to the Scenic Flight Company. See all the attractions above and more with this 1 hour and 45 minute scenic flight. As we provide our own custom flight routes for this experience, please contact us for further information.
Cost: From $400 pp
See what our awesome customers have to say
I highly recommend a scenic flight to see the lay of the land at Kakadu. The vastness of this national park can only be fully appreciated once you're in the air. We had an hour up there and really enjoyed the sights. We got to...More

Globetrottershell


6/13/2019

It's easy to see how beautiful Kakadu is from the ground but until you see it from the air you don't fully grasp the diversity and beauty of this national treasure. The price was absolutely worth it - I would've happily paid double. 30min was...More

EzzmayTheGreat


4/26/2019

My brother and I were travelling with our parents and we wanted to show them more of the park than what they had already discovered by car and from walking. Mum is quite immobile so we wanted to show her just how spectacular the park...More

Michelle and Da... T


4/16/2019

A huge thank you to pilots Tom and Dan for an amazing and spectacular birds-eye view of a special part of our world. To be able to see it from the air and to have exceptional commentary about so many aspects of this area, both...More

Schmook


3/06/2019

Amazing experience spectacular scenery with above and beyond service. Far surpassed my expectations and is a definite must do. Thank you to our pilot Joe for providing us with such a memorable experience

spectacularkakadu


3/04/2019

Expected a plane that you could see the scenery from ie wings above and a view out of a window! As per the advertising pictures - Ended up stuffed in very small uncomfortable third row of seats with very limited views (had to strain forward...More

Graham W


1/10/2019

What a wonderful experience seeing Kakadu from the air with a pilot that loves his job and cares about his passengers. Thank you Joe for making our experience of one of Australia's wonderful destination extra special. Ian & Susanne Maitland

Susanne M


8/09/2018

We took the option of the 1 Hour Scenic Flight to get a more over all view of the vastness of Kakadu. Our pilot Joe gave us a good briefing of what to expect as far as views and even informing us that there could...More

peat2013


8/03/2018
Have Something Else In Mind?
With a fleet of over 20 aircraft, we can accommodate any charter flight, freight transport or private transfer one could ever need. Simply click to contact!